Automatic color and texture matching that addresses problems of multicam and stereo shoots.
RE:Match in Action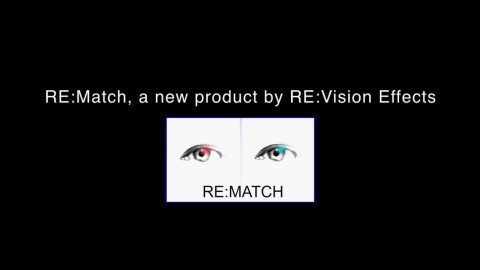 See what RE:Match can do!
We would like to thank the following people for supplying footage: Jaime Fernández Miranda, Mammoth HD, Ami Sun and Karen Marcelo, Survival Research Laboratories, Garrett J Smith and original music by Bob Bralove, bobbralove.com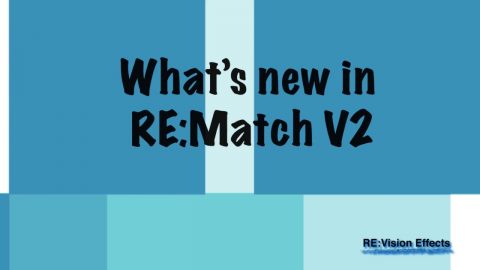 RE:Match is our solution to help you with camera matching problems. In this overview, you will see new features added in RE:Match V2 as well as some differences between RE:Match V1 and V2.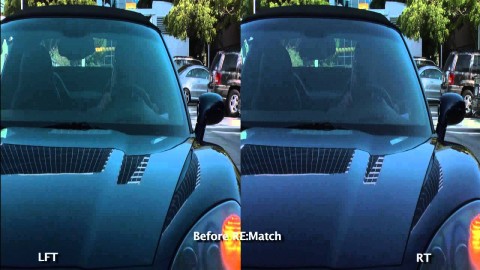 In this example, you will see that RE:Match Stereo matches one view to the other, despite the fact that the car reflects a slightly different color at a different angle.
View Complete Gallery
Nick Brooks, Academy Award and Emmy Award winner for visual effects, says RE:Match provides "amazing color matching for stereo pairs... really!!! The specular and optical aberrations matching is high quality and very effective."
Jonathan Banta, stereo pipeline designer, says "The smart guys at RE:Vision Effects have created a very cool toolset that I have been lobbying for for a long time. Brilliant!"
RE:Match Features
Match colors automatically
Color correct one shot to match another when using multiple takes or cameras.
Easy to control
RE:Match can match using the whole image or part of an image, and can use any point in time.
Stereo match
RE:Match improves stereo footage by knowing that the two views are captured at the same time with a small distance between the views.
Learn how to use RE:Match's features
Instructional videos, and example videos, that help you learn how to get the most of each plug-in's robust features.
Select an application for a free trial, pricing & download
Final Cut Pro

Grass Valley Rio

Avid Systems

Motion

Nucoda