Effections are our bundled collections.
Effections in Action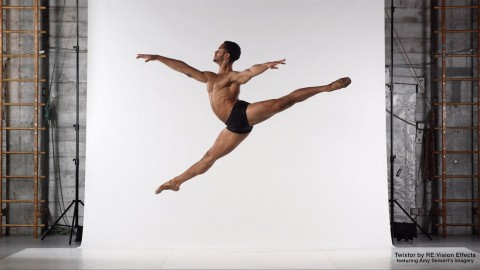 RE:Vision Effects' Twixtor used to retime up to 160x slower than real time.
Dance Company: Amy Seiwert's Imagery
Director of Photography: Ben Estabrook
Gaffer: Heath Orchard
Costumes: Christine Darch
Camera: Shot on Red Epic at 120fps.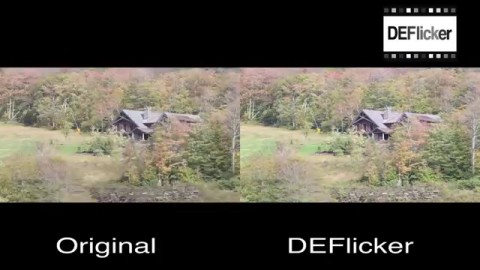 DEFlicker by RE:Vision Effects is designed to smooth out annoying flicker and artifacts when shooting high speed or timelapse video.
See what DEFlicker can do for you!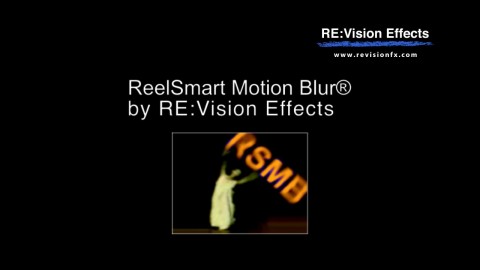 See what ReelSmart Motion Blur® can do for you!
Thanks to the following people
* Patrick Boivin for stop-motion
* Patrick Goski (Maxon,net) for 3D motion graphics example
* TMS Consulting and Baylor University Film and Digital Media department for Dance Sequence
View Complete Gallery
License
If you get Effections Plus, you get a license for all our products in any host we support. Products can be individually upgraded and downloaded. You get free pay-for upgrades for a year.
Products Supported
Below is a list of what currenly works in this application not what your license unlocks. In practice there is only 2 options: Effections Plus and Effections Regular (only for certain hosts).
Downloads
Some hosts support more than one API, for example for Fusion Studio we have a different download for native versus OFX, similarly Twixtor for Flame is supported as Sparks, not OFX.
Effections V2209
Effections Plus v2209

DEFlicker

DEFlicker is your solution for problematic high frame rate and timelapse footage!
V2
V2

DE:Noise

Reduces noise using novel feature-sensitive spatial filtering along with time-based optical flow methods!
V3
V3

ReelSmart Motion Blur

Applies natural-looking motion blur by automatically tracking every pixel.
V6
PRO V6

RE:Lens

Lens conversions, projections and stabilization for 360 VR and fisheye footage.
V2
V2

RE:Map

RE:Map provides professional quality uv mapping, displacement and distortion tools.
V4
V4

RE:Match

Automatic color and texture matching that addresses problems of multicam and stereo shoots.
V2
PRO V2

REZup

Enhance the quality ("IQ") of your content, increase the resolution of your video without loss of detail or introducing artifacts.
V1
V1

Twixtor

Intelligently slow down or speed up your image sequences with visually stunning results.
V7
PRO V7
Download
Try Effections for Free
Effections v2209 for OpenFX hosts
Effections v2209 for OpenFX hosts
TRIAL DOWNLOAD & LICENSE COMPATIBILITY
When you download a Effections or purchase a Effections license for Autograph it is compatible with the following:
Autograph
Autograph (all versions)
Baselight
5.2.11675 (and up)
Nuke
7.0 or Indie 12.2 (and up)
Scratch
8.6.944 (and up)
Silhouette
6.1.3 (and up)
Purchase Effections
License for Autograph
Regular license works with After Effects, Autograph, Catalyst Edit, Final Cut Pro, HitFilm, Premiere Pro, Resolve, and Vegas Pro.
Pro license works with After Effects, Autograph, Baselight, Diamant and Dustbuster+, Flame, Fusion Studio, Nuke, Scratch, and Silhouette. Pro license also works with regular product of any supported host.

The base Effections includes: DEFlicker, DE:Noise, FieldsKit, REZup and the regular version of RSMB, Twixtor and RE:Match. Effections Plus adds: RE:Flex, RE: Map, SmoothKit, RE:Lens, RE:Fill, RE:Grade, Video Gogh and the PRO version of Twixtor, RSMB and RE:Match.
Not all products work in every host applications, see the per host product pages for individual effects and compatibility. A new purchase comes with one-year of free pay-for upgrades and new products. Effections Plus is all we do in every apps we support. Effections Plus also supports floating license. The same license works in all supported hosts.
Upgrades: A year after purchase, upgrade or go to Previous Versions. Upgrades now with two years of support (all we do in all hosts we support).
Render-Only: Requires a full license, this is meant for hosts applications that support render-farm type processing.  See our licensing FAQ:
Time-Limited: Run the latest but the license will stop working after a year unless you renew.