Intelligently slow down or speed up your image sequences with visually stunning results.
Twixtor in Action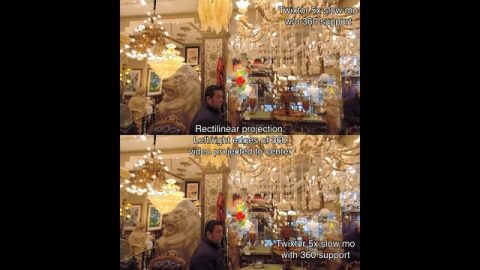 Twixtor uses optical flow tracking on 360 footage taking into account the connectedness of the left and right sides of the 360 video, as well as the top and bottom.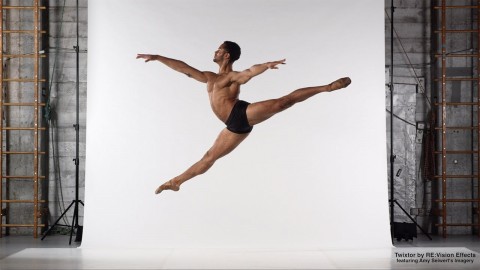 RE:Vision Effects' Twixtor used to retime up to 160x slower than real time.
Dance Company: Amy Seiwert's Imagery
Director of Photography: Ben Estabrook
Gaffer: Heath Orchard
Costumes: Christine Darch
Camera: Shot on Red Epic at 120fps.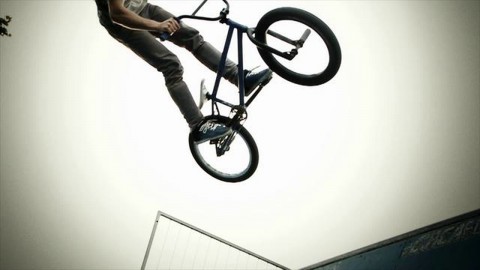 Beautiful viral video by Oton Bacar 7D slow motion test footage of his friend doing bmx tricks.
Lens used: Canon EFS 18-135 mm
Frame rate: 60fps Resolution: 720p
Music: "Fly Away"
Composed by: Niklas Aman, STIM
Published by: Freeplaymusic, BMI
View Complete Gallery
"Twixtor represents a new touchstone in retiming. The difference in accuracy means that retiming artifacts are either drastically reduced or disappear on the hardest to retime footage. "
"amazing" and "a must-have for any toolkit."
"I've tried other solutions - including Pixel Motion and Timewarp in After Effects 7 - and I have to say that Twixtor still consistently gives me the smoothest speed-shifted footage with the least amount of sweat, hands-down."
"I highly recommend this plugin to those seeking absolute superiority in time frame manipulation."
Read the review
"it's the best plug-in method for creating speed changes, slow-motion effects, and frame-rate conversions."
Read the review
"If you regularly find yourself stretching or shrinking footage to fit a target duration, or creating extreme speed control special effects, this is a plugin that you'll find invaluable."
Twixtor Features
World class motion estimation
Twixtor is more accurate and exhibits fewer artifacts when there are objects crossing in the scene. This means less tearing and stretching of objects as they cross or go out of the frame.
No sweat
Retime using a single speed setting. Option to control retiming on frame-by-frame basis is always available!
Visually stunning results
In order to achieve unparalleled image quality we developed proprietary tracking technology that calculates motion for each individual pixel, enabling Twixtor to synthesize unique new frames by warping and interpolating frames of the original sequence.
Feature Specs
Speed Changes
Retime a sequence made possible using a single speed parameter.
Frame by Frame
Keyframable retiming for complete control on a frame by frame basis.
Retime 360 video
Twixtor tracks 360 footage and retimes properly taking into account the connectedness of the edges of the sides as well as the top and bottom.
Motion Blur
Contains an option to add or remove motion motion blur, as appropriate.
RGB+A Tracking
An option that uses the alpha channel to help tracking of dark images with mattes. This is especially useful for CG, masked and/or keyed material.
M1 Support
Universal (M1/Intel) bundle available
Learn how to use Twixtor's features
Instructional videos, and example videos, that help you learn how to get the most of each plug-in's robust features.
Download
Try Twixtor for Free
Twixtor V7 – OFX Hosts
Twixtor V7 – OFX Hosts
TRIAL DOWNLOAD & LICENSE COMPATIBILITY
When you download a Twixtor or purchase a Twixtor license for Resolve it is compatible with the following:
Autograph
Autograph (all versions)
Baselight
5.2.11675 (and up)
Catalyst Edit
2015.1.0.104 (and up)
Diamant and Dustbuster+
13.0 (and up)
Flame
2019.2 (and up)
HitFilm
3.0.0.0576 (and up)
Natron
1 (and up)
Nucoda
2014 (and up)
Nuke
5.1 or Indie 12.2 (and up)
Resolve
15.0 (and up)
Scratch
4 (and up)
Silhouette
6.1.3 (and up)
Vegas Pro
64-bit only, v10.0e (and up)
BUNDLE & SAVE
Our Effections bundles package the power of multiple plug-ins together for a great price. A great option if you think you'll buy more than one of our products.
Purchase Twixtor
License for Resolve
License works with After Effects, Autograph, Catalyst Edit, Final Cut Pro, HitFilm, Media Composer, Natron, Premiere Pro, Resolve, and Vegas Pro.