Understand Effections Upgrades
When you buy a new version of Effections, our bundle of products, you get one year of free upgrades. Each time an individual product pay-for upgrade is released or a new product included in Effections is added, we increment the Effections Version number. That Version number is the minimal Effections Max Version needed. We do keep previous versions in the download section under Previous Versions link if you are not ready to upgrade today.
How do you know what your Max Version is? There are two ways.
First way is through your Account under Licenses. We now have a Version column. If the EFXN version for example is 2209, and your Version number (Max Version) is 2302 then you are all good. 2302 means you ordered 22/02 (FEB 2022) and got one-year free upgrades. If you have Effections bought from September 2021 and don't have an account yet (we only introduced user account FEB 2022) then create a user account and send us an email at sales@revisionfx.com with the username you selected, and we will merge your license(s) into that account. If you have floating licenses and we introduced a new product, write to us and we will upgrade your .lic file.

A second way, particularly useful for normal users who are not the account manager at a facility and use Activation Licenses, is to simply press on the Activation button in one of our effects and launch the activation panel. REVisionActivate can also be directly executed locating it in Macintosh: /Applications/REVisionEffects Windows: C:/Program Files/REVisionEffects Linux: /usr/local/revision – if there are multiple versions, use the largest/latest number.
For Effections in REVisionActivate panel you will see a number, for example 2310 (circled below). If the latest Effections is 2209, is 2310 larger than 2209, if yes, you are all good.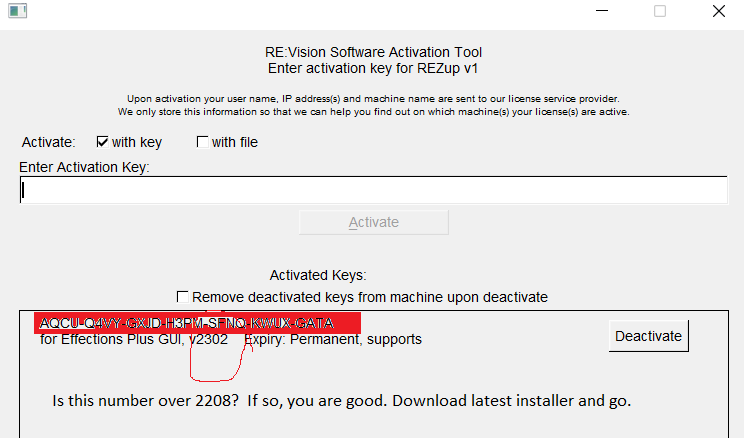 Finally, as our individual products are on their own cycle, and we are not known for frequent upgrades (many maintenance updates, not many pay-for upgrades). Effections Upgrades are now providing two years of free upgrades. So if you bought Effections in October 2022, you will see your Max Version after Upgrading at 2410. If your MaxVersion is 2207 and the latest version is 2209, well it's Upgrade time…